Features of Our Child Protection Training
We deliver Universally Accessible Child Protection Training
ChildSafegurding.com offers online Child Protection training for support staff and volunteers working in schools worldwide.
Our course is 60-90 minutes in length, designed for learners of all ability levels, accessible on any internet enabled device, and available in numerous languages.
We developed our platform to ensure all adults working in schools can be trained in Child Protection, regardless of whether they work directly for the school or through school-contracted vendors.
Read more on the features of Child Protection Training, below.

Companies that offer services to schools.
Example – A bus company that offers bus services with drivers to one or more schools.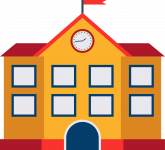 Schools or organizations that teach children at a physical location.
Example – An international school or an after-school tutoring center.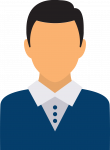 Adults who do not work for the school or a members of their household.
Example – A job applicant or family nanny.
Our Child Protection Awareness Course was designed to meet the learning, language, and technical needs of support staff and volunteers working in schools.
These adults often start work throughout the year and have backgrounds that differ from the instructional staff which makes training them difficult for schools. Our course ensures that every adult in the school community can be Child Protection trained.
The course was designed by educators with decades of experience working in schools, degrees in instructional design, and expertise in EdTech and eLearning.
Our unique instructional design was written to meet the learning needs of the diverse adult learners that work in schools. We developed a learner profile that takes into account their varied educational experience and literacy levels, their diverse cultural backgrounds, and their range of knowledge in Child Protection, eLearning, and professional development.
Our course delivers Child Protection content that uses:
A concept focused approach
A multimodal approach that includes visual, auditory, and textual content
An interface accessible to all literacy levels
A quizzing system that focuses on engagement, not assessment
Every learner receives the same learning experience regardless of langauge.
Our Child Protection Awareness Course was developed in partnership with Chris Gould of 112 Safeguarding. It was built upon the United Nations Convention on the Rights of the Child. The course aligns to global Child Protection training standards and legal frameworks.
Our course covers:
Part 1 – What is Child Protection and Why is it Important?
Part 2 – Types of Abuse
Part 3 – Child Protection Concerns
Part 4 – Appropriate Adult Behavior
Part 5 – Reporting Child Protection Concerns
           * Each section includes a quiz
To complete the introduction, 5 parts of the course, and the course review takes 60-90 minutes.
Our course has been certified by The CPD Certification Service as conforming to continuing professional development principles.
Our platform allows schools to include customized reporting information that is presented in the course in line with the rest of the content.
For example, if a school has a Designated Safeguarding Lead that should be contacted for Child Protection reports, the school can add that person's name, job title, and contact information to the course.
This custom reporting information is presented in course and on the Certificate of Completion. This allows learners to read the school's reporting information and to keep a written reference for future use.
This customized content is presented live. If a school updates this information, it will be updated on all subsequent sessions and certificates, even those that are reprinted.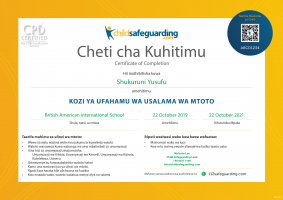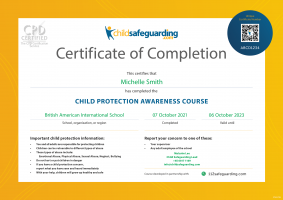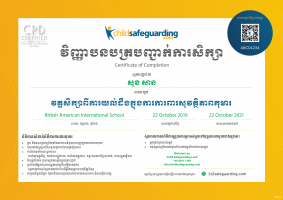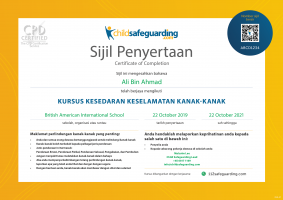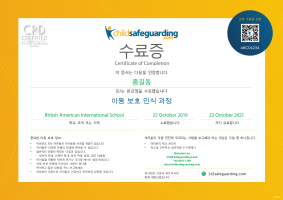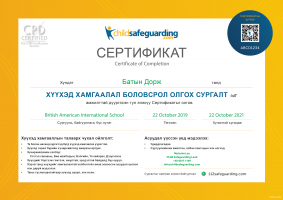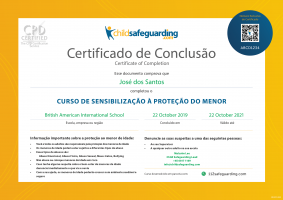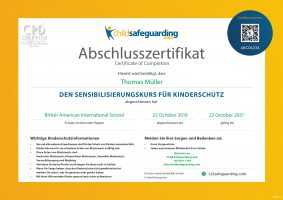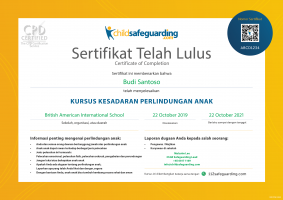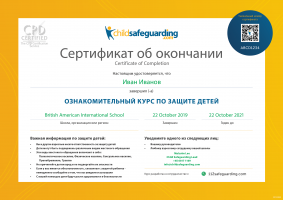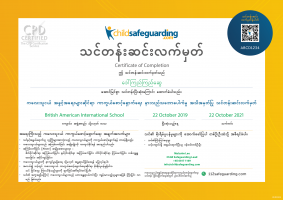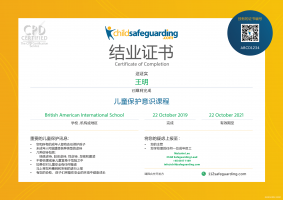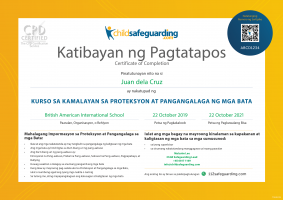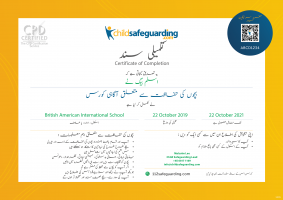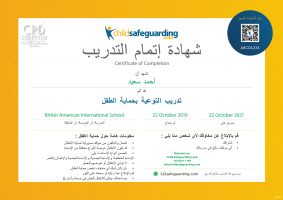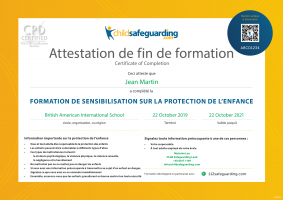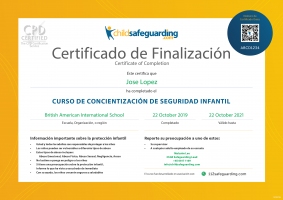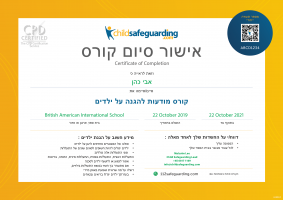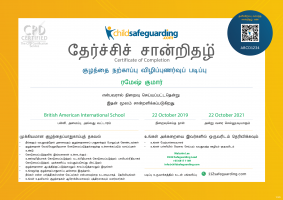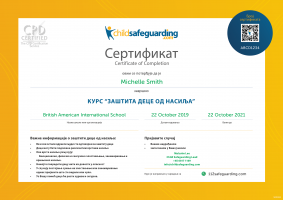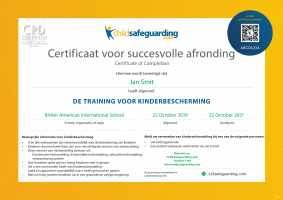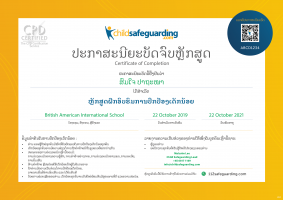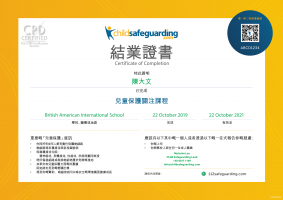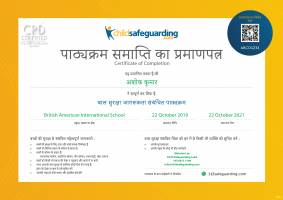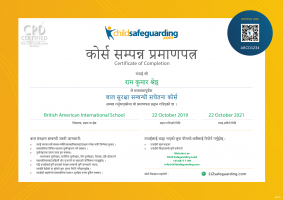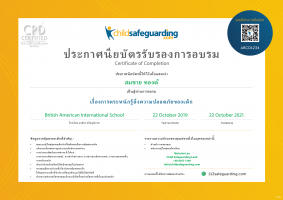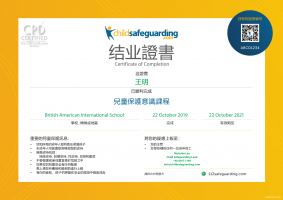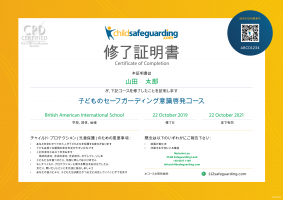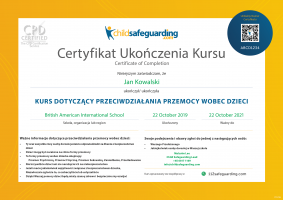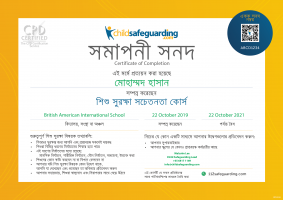 Our Certificates of Completion are valuable learning artifacts for both learners and organizations.
The Certificate is valid for 2 years
It contains important information from the course and the school's custom reporting information
It is presented in the language used in the course
It is accessible at any time using the Learner Code from the course
It can be printed, downloaded, or emailed
The language of the certificate can be changed. For example, if a school has learners that complete the course in multiple languages, they can download copies in English for internal records or in another language to meet local legal requirements.
All certificates can be authenticated through our verification system.
A central focus of ChildSafeguarding.com is to make Child Protection training accessible to learners in multiple languages.
We present our course in these languages
At the point of entry to the course
Throughout the course, in both audio and subtitles
On all buttons, labels, webpages, and emails
On the Certificate of Completion
Our aim is that learners taking the course have their entire experience presented in their language of choice, without the need for accommodation of English.
Our translations are done by educators because educators not only understand the language and the Child Protection content, but they also understand the school context.
Our learning platform is accessible on-demand through any internet enabled device, including computers, laptops, tablets, and phones. It is adaptive to mobile devices both in portrait and landscape mode.
The platform is purely web based accessible on any browser. There are no software or apps to install.
The course is accessed through a code system that allows users to start or resume the course at any time.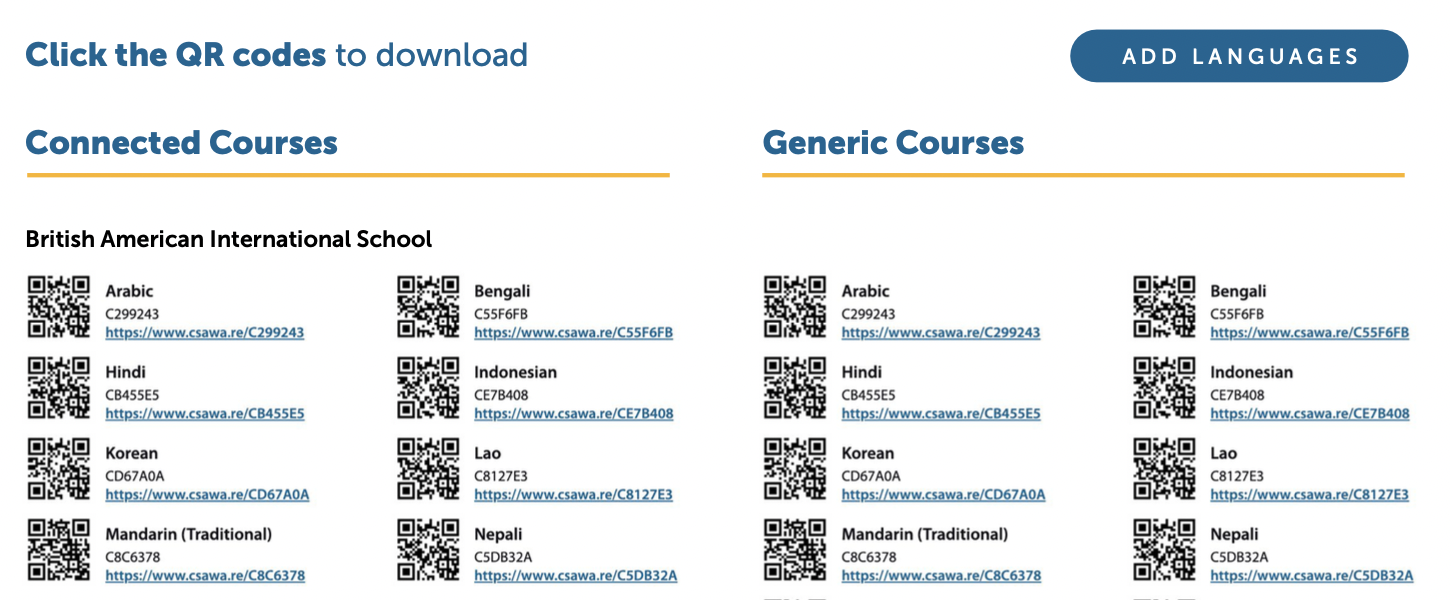 Our platform uses codes to simplify the administration of the system and to provide access to courses, sessions, and certificates. These codes come as both short URLs and QR codes.
Course Code

– Users access the course by using a course code. This code takes the learner to the starting page of the course where they enter their name to begin. This code tells our platform which organization they come from and which language to use.

This eliminates the need for usernames, passwords, and user registrations.

Learner Code – Once learners start the course, they are given a system generated learner code they can use to pause and resume the course. This allows them to manage their learning experience and to deal with any technical issues like lost Internet.
Certificate Code – After completing the course, the Learner Code is automatically converted to a Certificate Code. Every Certificate of Completion has a unique Certificate Code that can be used to access or verify the authenticity of the certificates.
Account administrators have access to all of these codes through the platform dashboard.
Our bespoke eLearning platform was developed to provide access to our course to all learners.
The course is accessed through a code system that eliminates the need for usernames, passwords, and user registrations. To begin, learners only need to enter their name and press begin.
The learning interface is designed for universal understanding, including buttons that use basic shapes and primary colors and labels and subtitles presented in the language of instruction.
Our eLearning experience ensures that any learner can successfully complete the course regardless of their geography, literacy level, or technical experience.
Our customer dashboard is designed for streamlined platform administration
Seats & Languages – Monitor seats, access languages, and purchase seats
Learners – Manage learners, access certificates and learner codes, download data, and terminate sessions.
Recognition – Learn more and apply for our Recognition Program
Resources – Download free Child Protection resources
How To – Access our library of How To videos
Set up takes less than 5 minutes.
A personalized Recognized School webpage on ChildSafeguarding.com
A recognition plaque shipped directly to the school
Personalized logos for the school website, publications, and social media
Inclusion in ChildSafeguarding.com communications
* Eligibility requirements apply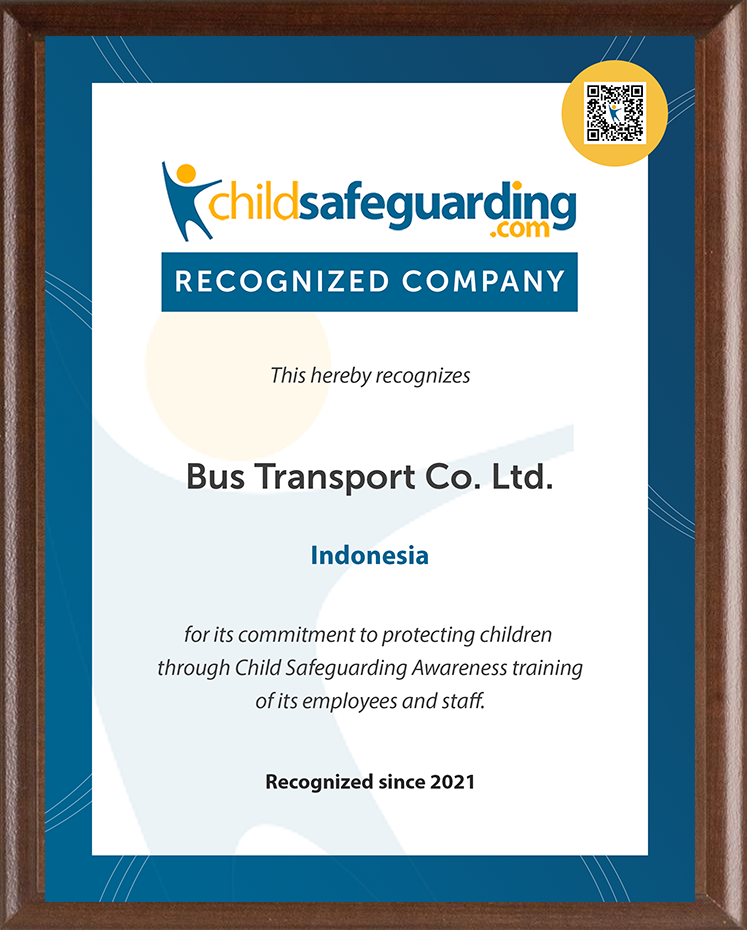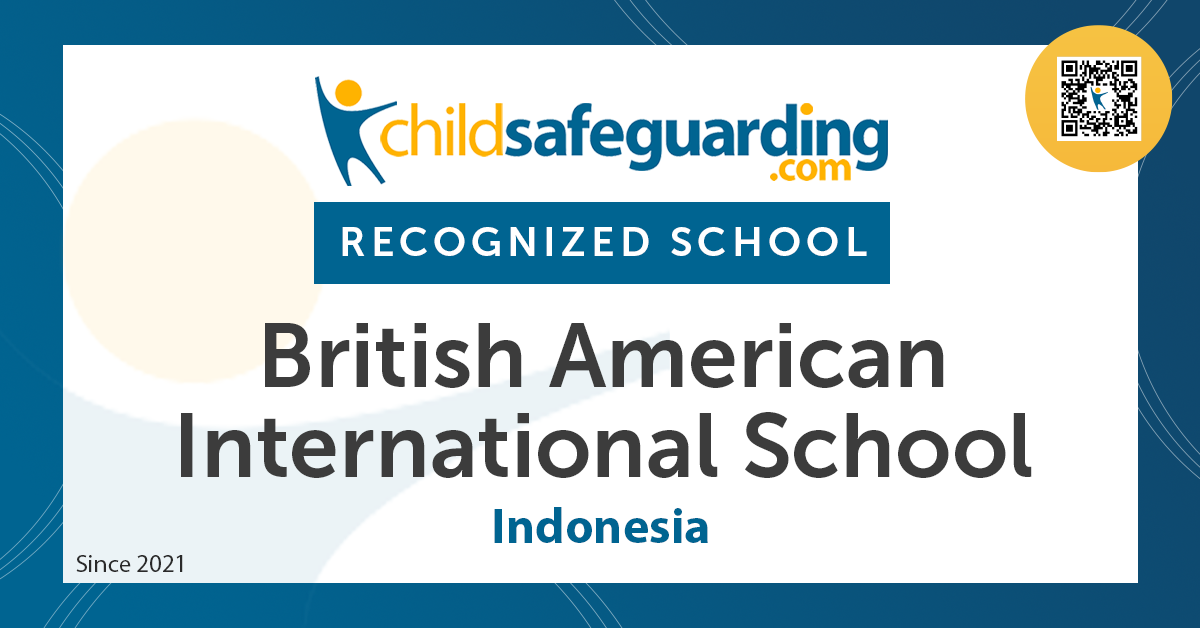 Learn more about ChildSafeguarding.com with a personal demo from our customer support team.
What Customers Say About ChildSafeguarding.com
Chairperson,Association of National and Private Schools
"ChildSafeguarding.com offers something that is international (multiple languages), seamless to implement, and vital for the community. A perfect combination."