Capacitación sobre la Protección Infantil en
REPÚBLICA DEMOCRÁTICA DEL CONGO
Formación diseñada para el personal de apoyo en
República Democrática del Congo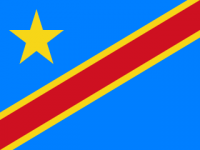 Nuestro curso de concientización sobre protección infantil enseña habilidades y conocimientos de prevención del abuso infantil para apoyar al personal que trabaja en las escuelas de la República Democrática del Congo utilizando enfoques de capacitación universalmente accesibles que cumplen con los estándares internacionales:
Creamos contenidos basados en las Convenciones de las Naciones Unidas sobre los Derechos del Niño, que se alinean con los requisitos legales internacionales
Nuestra instrucción está diseñada para enseñar un nivel que satisfaga las necesidades de todos los adultos
La plataforma de eLearning de ChildSafeguarding.com es accesible en cualquier dispositivo, por lo que es totalmente on-demand
Nuestro curso está disponible en varios idiomas
La Capacitación en Protección Infantil en la República Democrática del Congo es apropiada para todos los adultos que trabajan con las escuelas y proveedores escolares de la República Democrática del Congo, como guardias de seguridad, conductores de autobuses, limpiadores, voluntarios, etc.
Organizaciones Reconocidas
Contáctenos para comenzar
COMPRE UN PAQUETE O UN CURSO
Compre créditos para empezar su formación de Protección Infantil ahora.
Lo que dicen los clientes sobre ChildSafeguarding.com
Head of International Curriculum Association,International Curriculum Association (Fieldwork Education)
The increasingly complex dynamic of the international school community requires inclusive and accessible solutions. With a global focus whilst addressing a local need, ChildSafeguarding.com offers a tool capable of equipping the whole school in its commitment to, and accountability for, baseline child protection training.