Programa de Reconocimientos de ChildSafeguarding.com

El Progrma de Reconocimiento de ChildSafeguarding.com reconoce a escuelas y a empresas por su compromiso de proteger a los niños del abuso infantil.
Para ser reconocido, se requiere que las escuelas y empresas capaciten a su personal en la Prevención de Abuso Infantil y que cumplan con los estándares de práctica de Protección Infantil.
Comparta su Compromiso a la Protección Infantil
Organizaciones reconocidas comparten su compromiso a la Protección Infantil con personas dentro y fuera de sus comunidades.

Empleados , Voluntarios, Y Vendedores

Actuales y Futuros Padres


Redes sociales Seguidores y Visitantes a la Página Web

La Totalidad de La Organización Comunidad


Locales y Gobierno Oficiales
Organizaciones reconocidas transmiten un mensaje de aviso claro a abusadores potenciales.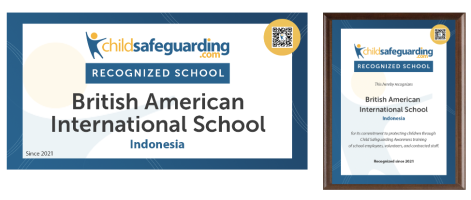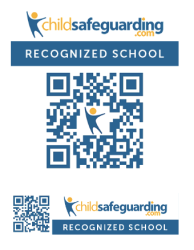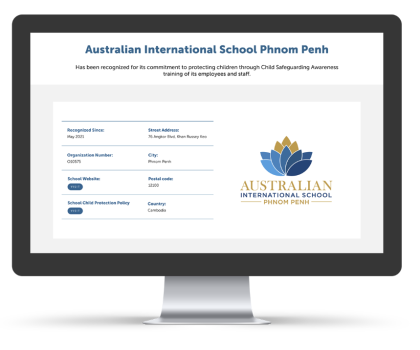 Organizaciones reconocidas reciben:


Una página web de

Organización

reconocida personalizada en Childsafeguarding.com
Una placa de reconocimiento enviada directamente a la organización
Logotipos personalizados para la página web de la organización, publicaciones, y redes sociales
Aviso: Todos los códigos QR son dirigidos a la página web

Organización

reconocida de la Organización
Inclusión en las comunicaciones de ChildSafeguarding.com
Nuestras Organizaciones Reconocidas
Hasta la fecha, nos enorgullece haber reconocido 39 organizaciones a través de 17 países.
COMPRE UN PAQUETE O UN CURSO
Compre créditos para empezar su formación de Protección Infantil ahora.
Lo que dicen los clientes sobre ChildSafeguarding.com
Director, Commission on International EducationNew England Association of Schools and Colleges (NEASC)
All NEASC schools are held to a high standard for child protection and safeguarding policies, practices, procedures, and impacts. We expect everybody in a learning community to take responsibility. We appreciate the important training tool that ChildSafeguarding.com offers to schools, and indeed support all efforts to promote such training and awareness in schools.