LEVEL 1

Fundamental Child Protection Training for Educators
Child Protection training for
Teachers
Our Level 1 – Fundamental Child Protection Training for Educators course is an on-demand eLearning course that offers Child Protection training to teachers and educators working with children.
The content meets international Level 1 standards for Child Protection training. 
The course provides 3 hours of professional learning, designed for teachers,  accessible on any internet-enabled device.
Read more about the features of the course below.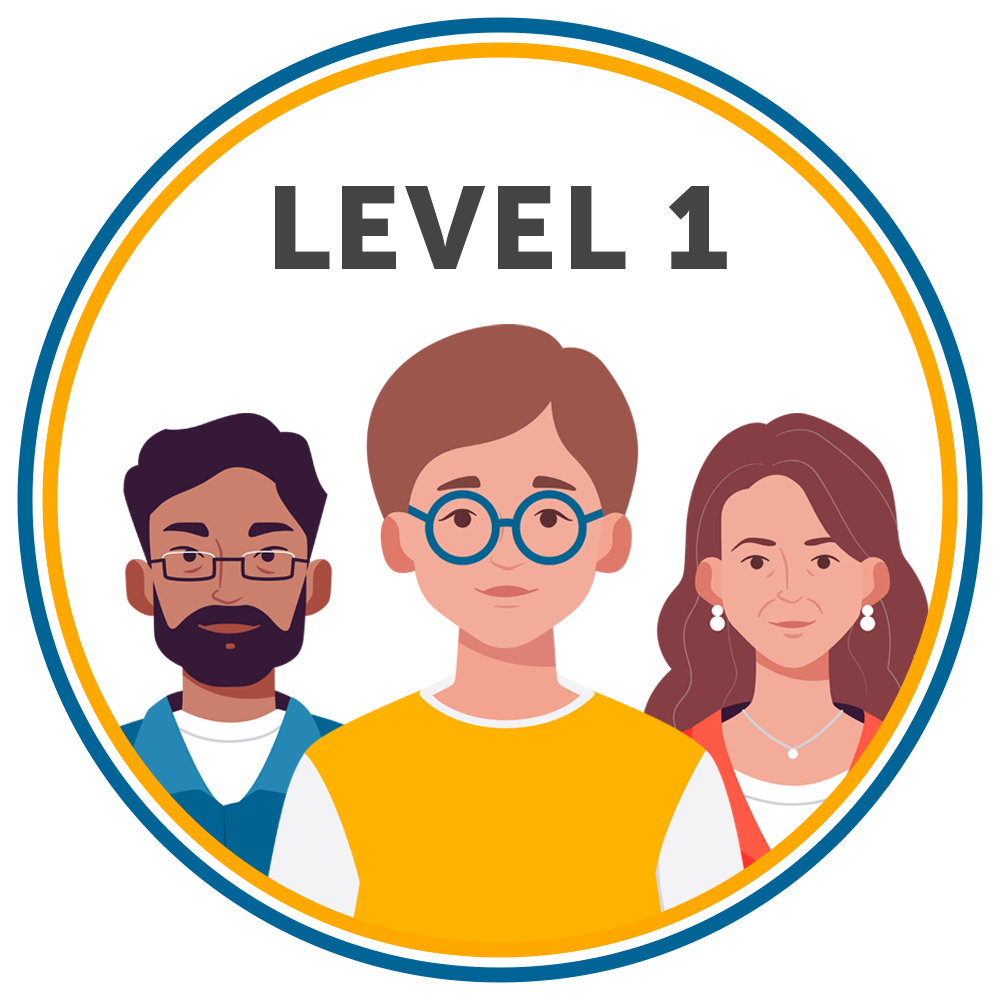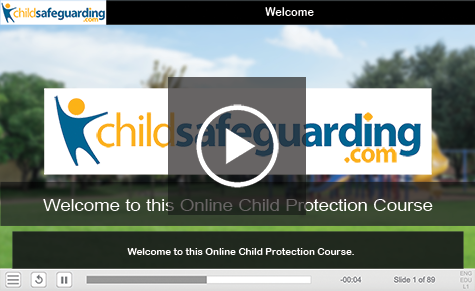 Try a 10 minute demo version of our Level 1 – Fundamental Child Protection Training for Educators course to see how the content is delivered, examples of activities and knowledge checks, and a sample of the case studies.
You will be able to choose either our Preschool, Primary School, Secondary School, or Whole School case study.
Learn more about ChildSafeguarding.com with a personal demo for your organization.
Our Level 1 – Fundamental Child Protection Training for Educators course was designed to meet the learning needs, professional responsibilities, and educational background of teachers and educators.
The course was designed by educators and Child Protection experts with decades of experience working in schools, degrees in instructional design, and expertise in EdTech and eLearning.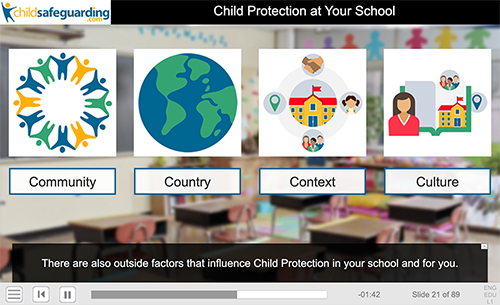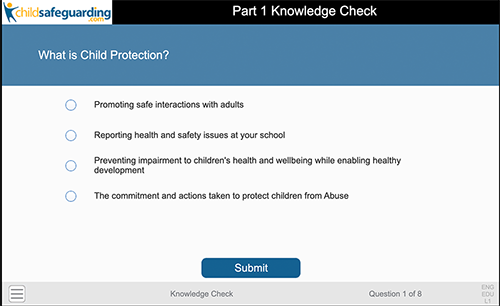 Our unique instructional design was written to meet the learning needs of teachers and educators working with children. We developed a learner profile that takes into account their educational experience, their professional experience, their diverse cultural backgrounds, and their range of knowledge in Child Protection, eLearning, and professional development.
Our Level 1 – Fundamental Child Protection Training for Educators course delivers Child Protection content that uses:
A scaffolded approach
A multimodal approach that includes visual, auditory, and textual content
An interface accessible to learners of all technical experience levels
A combination of instruction, activity, and formative assessment
A case study approach that offers in-depth and applied learning connected to the learner's area of experience (preschool, primary school, secondary school, whole school)
Every learner receives the same learning experience regardless of language.
Our Level 1 – Fundamental Child Protection Training for Educators was developed in partnership with Chris Gould of 112 Safeguarding. It was built upon the United Nations Convention on the Rights of the Child. The course aligns to international Child Protection training standards and legal frameworks.
Our course covers:
Part 1 –Child Protection and Your Duty of Care
Part 2 – Abuse Types, Behaviors, and Indicators
Part 3 – Concerns, Disclosures, and Your Responsibilities
Each part of the course includes sections of the case study, activities, and a knowledge check.
After the learner has completed the 3 parts, they will go through a course review and then be taken to the Final Assessment.
In order to pass the course and receive their Certificate of Achievement, the learner must achieve 80% correct on the Final Assessment.
The course takes about 3 hours to complete.
Our course has been certified by The CPD Certification Service as conforming to continuing professional development principles.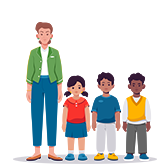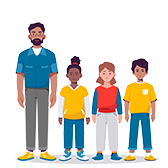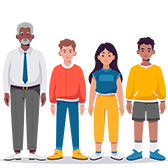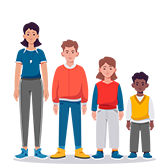 Our Level 1 – Fundamental Child Protection Training for Educators includes in-depth case studies that provide authentic learning experiences that meet the needs of educators working with children of various ages.
The case studies are presented in sections across the three parts of the course. In each part, the learner will engage in the case from the point of view of someone involved.
Part 1 – The viewpoint of the teacher.
Part 2 – The viewpoint of the child.
Part 3 – The viewpoint of the Designated Safeguarding Lead.
We also offer a menu of case studies to ensure the learning experiences match the needs of the learner. Educators can choose from case studies designed for:
Preschool – students under 6 years old
Primary School – students 5 to 12 years old
Secondary School – students 12 to 18 years old
Whole School – students of any age
The case studies are drawn from real events. They provide the learner an opportunity to apply their Child Protection knowledge and reflect on what they may have done in that situation.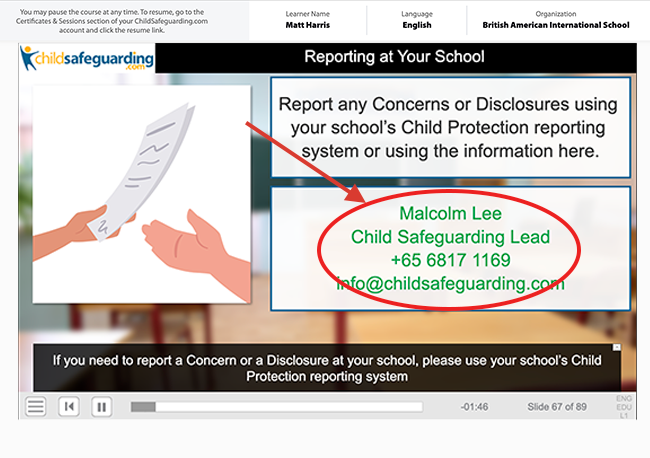 Our platform allows organizations to include customized reporting information that is presented in the course in line with the rest of the content.
For example, if a school has a Designated Safeguarding Lead that should be contacted for Child Protection reports, the school can add that person's name, job title, and contact information to the course.
This custom reporting information is presented multiple times during the course. This allows learners to read the school's reporting information and have it reinforced to them to report using the organization's Child Protection reporting system..
This customized content is presented live. If a school updates this information, it will be updated on all subsequent sessions.
If learners successfully pass the Final Assessment, they will earn their Certificate of Achievement.
The certificate is valid for up to 2 years
It is presented in the language used in the course
It is accessible at any time by clicking on the certificate link in the learner's dashboard or Learner section of the organization's dashboard
It can be printed, downloaded, or emailed
The certificate for our Level 1 course lives on a
Blockchain
, which ensures it's authenticity. This means the certificate:
Cannot be altered
Is digitally verifiable
Can be shared on documents, professional profiles, and social networks, such as LinkedIn
Every learner that takes our Level 1 – Fundamental Child Protection Training for Educators course needs to register an account on our platform. This is true for individuals who purchased the course for themselves and those using an organization's credits to take the course.
Learners using an organization's credits need to connect their account to the organization.
When a learner is connected to your organization:
The learner can use the credits the organization purchased to take the Level 1 course.
The organization can terminate any in-progress session that uses their  credits.
The organization will see all of the learner's certificate and in-progress session information, including information that does not involve the organization's credits. This will allow the organization to see certificates the learner has earned outside of the organization.
Either the learner or the organization may disconnect at any time. Once disconnected, the learner will retain their certificate.
Visit the Connections section of the ChildSafeguarding.com dashboard for more information.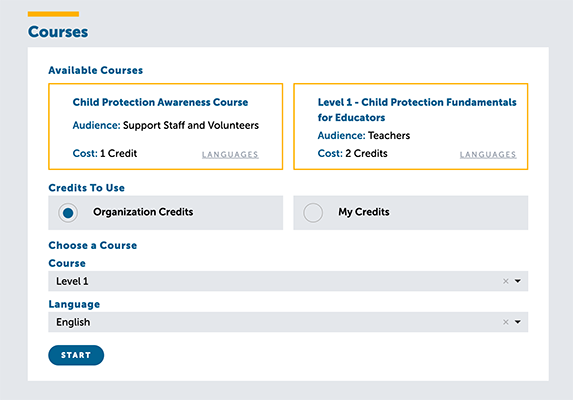 Our bespoke eLearning platform was developed to provide access to our courses to all learners.
To access the Level 1 – Fundamental Child Protection Training for Educators course, learners will need to register for an account. They will then need access to credits. They can buy credits for themselves or use organization credits by connecting to an organization.
The learning interface for the course is designed for universal understanding, including buttons, labels, text, and subtitles that are presented in the language of instruction.
The course is accessible through any internet enabled device, including computers, laptops, tablets, and phones. It is adaptive to mobile devices both in portrait and landscape mode. The course is web based accessible on any browser. There are no software or apps to install.
Our eLearning experience ensures that any learner can successfully access the course regardless of their geography, literacy level, or technical experience.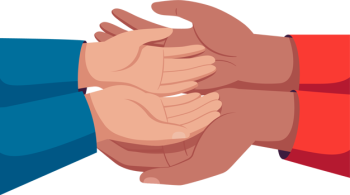 BUY A PACKAGE OR A COURSE
Purchase credits to start your Child Protection training today.
What Customers Say About ChildSafeguarding.com
Director, Commission on International EducationNew England Association of Schools and Colleges (NEASC)
All NEASC schools are held to a high standard for child protection and safeguarding policies, practices, procedures, and impacts. We expect everybody in a learning community to take responsibility. We appreciate the important training tool that ChildSafeguarding.com offers to schools, and indeed support all efforts to promote such training and awareness in schools.