Child Protection Resources
Our Child Protection training is only one part of
a robust Safeguarding program
Browse our collection of Child Protection Resources. 
Child Protection and Safeguarding are vital to ensuring a school environment is Child Safe as they affect every element of the school community. However, the full scope of Child Safeguarding can be complex and challenging for schools. 
As our mission is to make all schools worldwide safe for children, ChildSafeguarding.com is committed to helping schools tackle the complexities of Safeguarding. We work with schools to understand the role of our training in establishing a baseline standard of Child Protection knowledge amongst the staff. We connect schools with experts and additional training materials in Safeguarding and Child Protection.
We offer free webinars and resources  to help schools and those who work with children in their work creating robust Child Safeguarding programs.
To help develop consistent understanding and vocabulary around Child Abuse Prevention, we believe it is helpful to share these definitions:
SAFEGUARDING is the prevention of impairment to children's physical and psychological health and wellbeing while providing circumstances that enable healthy development. 
CHILD PROTECTION is the commitment and actions taken to protect children from abuse and neglect.
A few notes:
Safeguarding and Child Protection are not synonymous.

Safeguarding encompasses prevention of the full spectrum of potential impairment to children from minor to severe.

Child Protection is an element of Safeguarding that focuses on abuse and neglect.
Legal definitions of Safeguarding, Child Protection, Harm, Abuse, and Neglect vary by country. As such, the definitions above may need to be refined to match local legal standards.
Additional definitions of key Child Protection terms may needed. Identification and definition of these terms should be done

 in collaboration with stakeholders to ensure they are based on the legal, cultural, and contextual needs of the community.
3 Principles of Effective Child Protection in Schools
These 3 principles can help schools create Child Protection programs that effective in protecting children from harm by involving all staff, teachers, and parents.
This video was created in conjunction with the Western Association of Schools and Colleges (WASC).
Free Child Protection Resources
In partnership with 112 Safeguarding, we have developed a set of free Child Protection resources for schools. These resources are intended to help schools and those who work with schools understand the full scope of Safeguarding and the policies, personnel, and practices needed to keep children safe.
These materials are free to download and distribute.
With exception of the Child Protection Responsibilities for a School which can be downloaded below, you will need to register for a free account to access these resources. The resources are available to download in the Resources section of the dashboard.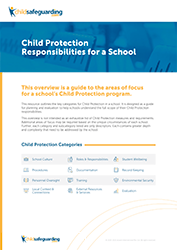 Child Protection Responsibilities for a School
This overview document outlines the key categories for Child Protection in a school. It is designed as a guide for planning and evaluation to help schools understand the full scope of their Child Protection responsibilities.
Essential Safeguarding Resources
Global Child Protection standards and requirements for schools are informed by these essential resources:
Learn more about ChildSafeguarding.com with a personal demo for your organization.
What Customers Say About ChildSafeguarding.com
Big Love
ChildSafeguarding.com is a valuable Child Protection training resource for schools; in this case, teachers and auxiliary staff specifically, are taught to identify signs of child abuse in their student population, which just might be the lifelines needed.