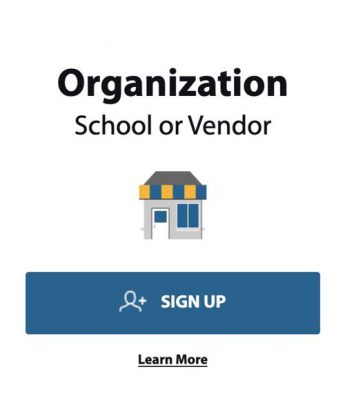 Organization users sign up for a free account using this button.
Once Organization users have registered their accounts, they will be asked to identify their Organization type and provide information about the Organization.
The two types of Organizations are:
School – An educational institution that serves children directly and hosts them on their site.
(e.g. British American International School)

Vendor – A company that works with or at a School or multiple Schools.
(e.g. John's Bus Company)
Schools
Schools will be asked to provide reporting information for Child Protection concerns. This information will be displayed in the course and on the Certificate of Completion for learners that take the School's course.
Schools may purchase seats and take the course for their own organization.
Vendors
Vendors may connect to any School on the system and take the course using that School's reporting information. The School will see information about all learners from the Vendor organization that have taken its course.
Vendors may connect with multiple Schools.
Vendors may also choose a generic version of the course that gives their learners the same course experience using generic reporting information.
Both Schools and Vendors can use any language available.
Completed certificates expire after two years, at which point the course must be retaken to stay current.
Unused seats purchased on the system never expire.